xPupZ presents
YorkTese Pupz
Yorktese - Yorkshire Terrier/Maltese Mix! - Yorktese
Yorkshire Terrier
Beautiful Puppies!
Maltese
We have a six month old male available.
xPupZ is moving to a new site. Now also at www.xPupZ.com.
Same great content! Easier to remember.
xPupZ is located between the great northwest cities of Seattle, WA and the beautiful Rose City of Portland, OR. We breed purebred maltese and yorkies. We also breed the very popular yorktese mix. We no longer provide other mixes beside the yorktese.
Please do not confuse us with others that attempt to imitate us. If they offer other kinds of dogs, they are not xPupZ. We provide healthy and happy puppies for responsible owners.
We are more than happy to refer people still interested in malte-lhasa mixes and miki dogs.
For those of you that have filtered email services:
When contacting us, please allow email from our address to go to your account. Some services provide filters that prevent us from responding to your emails. Your privacy is very important to us and we will not send junk emails to your address. We respond to every email we get, but if your internet provider is blocking our emails, our replies do not go through. AOL and Comcast are two companies that have blocked our emails. Our email address is xPupZ@HoTMaiL.com
xPupZ has never used AOL, Comcast, Qwest, Verizon or other service provider.
Our email will NEVER contain names of these providers.
LETTER FROM BUYER:
Hello,
It's been a while since we sent you and update on Sammy. Thought you would like to see some new pictures of him. Sammy is about 4 1/2 pounds now and may have stopped growing or has slowed down considerably. He has a lot of energy and loves to play with all of his toys. Yesterday we took him to Petco for his first grooming. He wasn't really impressed with the experience but he faired out OK.

Lana and I are very happy that we found you as a breeder. I'll never forget the day that we called in response to your ad in the paper. Male Maltese, etc., etc., and you said that he was sold. I think you sensed the disappointment in my voice when you candidly asked me if we would be interested in an "accident." You proceeded to explain to me what happen. Sammy's father being the Maltese and mother Yorkshire Terrier. Resulting in a great new breed....YORKTESE....

The love and caring that you give to your dogs is evident in Sammy. After visiting your home to see Sammy we saw first hand how you handle and care for your animals. The advise that you gave us will always be appreciated. Sammy has turned out to be a wonderful companion. Very intelligent and responsive. Loves to play and go for rides and visit other dogs and people. We are constantly awed at how smart he is. He surprises us with his actions. For example the other morning Lana was getting ready for work and the little guy thought her feet needed slippers. So he went and brought her both slippers one at a time and even tried to put one of them on her foot. He does things like this constantly I have had wonderful dogs all my life but to tell you the truth I have never seen anything like this one. And to top it all off he is so cute.

Thanks again for introducing us to Sammy a member of our family who we love so much. To us Sammy is an adopted son who is short, hairy, walks on all fours and doesn't speak clearly.

We hope that you enjoy the new pictures of Sammy showing off his new Petco Hair DO.

Best regards,

Ron & Lana Solnick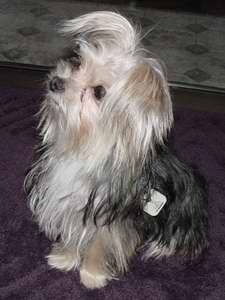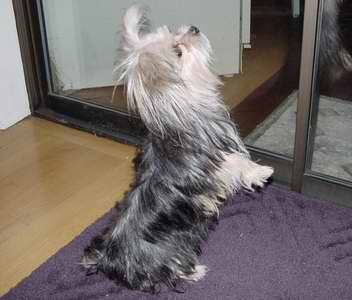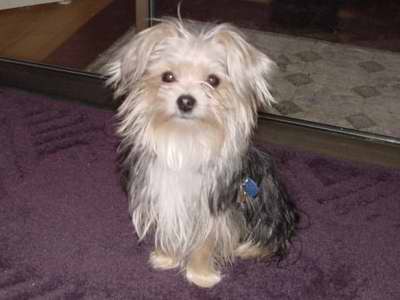 This is Sammy, a Yorktese (Yorkie/Maltese Mix).
Look for more pictures and buyer testimonials in the Photo Album.