xPupZ Presents
Home of the Original
Yorktese Pupz
Yorkshire Terrier and Maltese Mix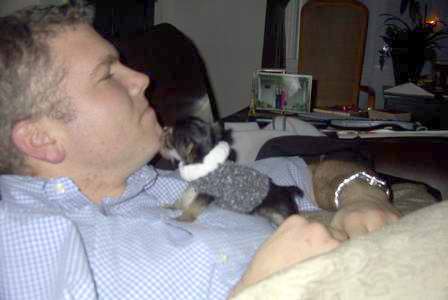 This little guy is Jack.
You may find him roaming the streets near UW in Seattle, WA.
You can see the growth of Jack in our Photo Album.
Possibly the best mix of tiny toy breeds possible. A combination of yorkshire terrier and maltese. Both breeds are virtually nonshedding. As a matter of fact, some believe that the maltese was used in creating the yorkshire terrier. The yorkie is only about a 100 year old breed while the maltese has been dated back to 8000 BC. Some have even told me that if you get a yorkie that has a white chest or feet, that some of the maltese ancestry is showing. Both breeds have the same size and style of body and muzzle. The only differences between the two breeds are color, ears, and tail. The yorkies have darker, golden hair, while the maltese is white. The yorkies ears stand up, but some flop like a maltese. The yorkies have their tails cut for cosmetic reasons. They would have similar tails if it was left long. We are no longer going to dock the tails of the yorktese. These dogs will require regular grooming or can be cut short (called "puppy cut"). They can be very playful, loving, alert, and smart.
NEW LITTER!!!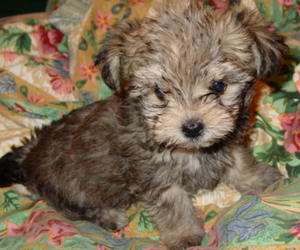 Pup A, Male
Price: $650
AVAILABLE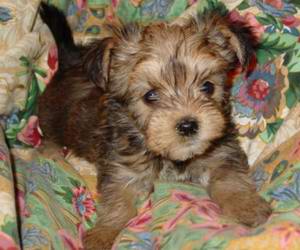 Pup B, Female
Price: $750
AVAILABLE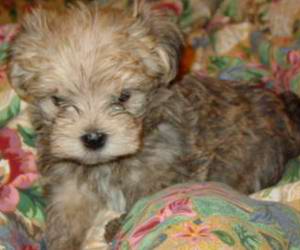 Pup C, Female
Price: $750
AVAILABLE
We cannot believe how cute this litter is. Currently 6 weeks old. This litter will be healthy enough to enter their new homes in March. Due to complications, we lost their mother. This litter has been entirely human raised from 3 days old. They love people! These puppies are absolutely adorable and will be perfect lap dogs. They are eating on their own and are already paper trained. Puppies will be current on shots and wormings prior to leaving.
For those of you that have filtered email services:
When contacting us, please allow email from our address to go to your account. Some services provide filters that prevent us from responding to your emails. Your privacy is very important to us and we will not send junk emails to your address. We respond to every email we get, but if your internet provider is blocking our emails, our replies do not go through. AOL and Comcast are two companies that have blocked our emails. Our email address is xPupZ@HoTMaiL.com
Contact Us Today!
xPupZ@HoTMaiL.com