Maltese


Yorkshire Terrier


YorkTese


Photo Album


Contact Us
LETTER FROM BUYER:
This is our little guy Harley. He joined our family in June 2003. We enjoy him so much. He loves to play and especially loves to go camping!

The Young Family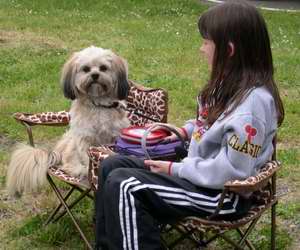 This cute boy is Harley, a Maltese-Lhasa Mix.
You'll find him in Bonney Lake, WA
LETTER FROM BUYER:
Hello-

I just wanted to write and thank you again for our little guy Neo. To refresh your memory, we came up just before Christmas and took him home, he was the last available of the Yorkie/Lhasa/Maltese litter and you let us take him a little early. Neo is now three months old and absolutely the center of our lives. He is staring up at me right now as I write this. I am attaching a Christmas picture for you, I will send more recent ones as soon as I can get them downloaded. Neo is now just over three pounds, healthy, rowdy, and has as sweet a personality as can be. A quick story, I slipped the other day and fell down a flight of stairs to our family room. Neo was in our family room with my husband and he came tearing across the room after I fell. I couldn't get up right away, but Neo sat down right next to me, licking my fingers and howling at the top of his little lungs. The love of this little guy is amazing to us, we cannot thank you enough for him.

Robert & Jessica Grondahl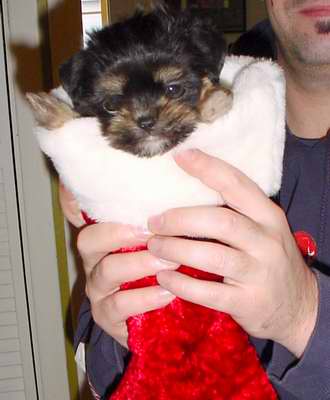 SECOND LETTER FROM BUYER:
Hi! I promised to keep sending you pics of Neo as he grows up, so here is one taken a couple weeks ago, at 5 1/2 months. He is on his way to the groomer so he's lookin' a little scruffy, but I had to share the expression on his face. Neo continues to be a joy and complete source of entertainment for us. He is learning many new tricks and pretty much has us wrapped around his finger. (Our friends tell us he has more toys than most children). Thank you again!
Robert & Jessica Grandahl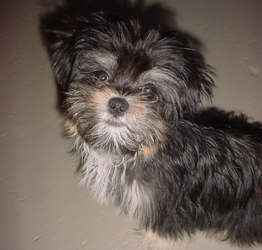 This is Neo.
You may find him roaming the streets of Oregon City, OR.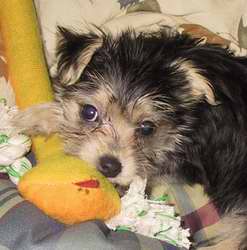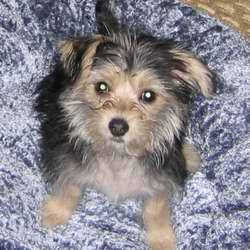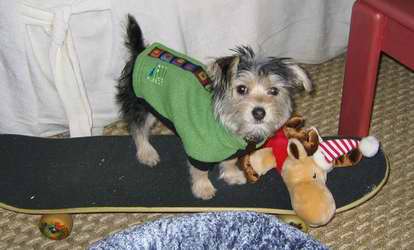 These are pictures of Ziggy, a Yorktese puppy.
He's at a Ski-Board Camp in Bend, OR.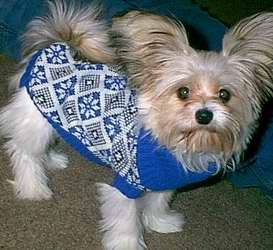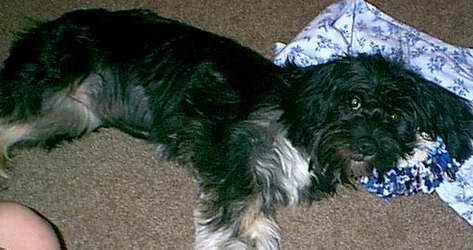 This is Macy and Zoey. Lhasa Mixes.
They live proud at Bonney Lake, WA.
Previous Page, 1, 2, 3, 4, 5, 6, 7, 8, 9, Next Page