xPupZ Presents
Home of the Original
Yorktese Pupz
Yorkshire Terrier and Maltese Mix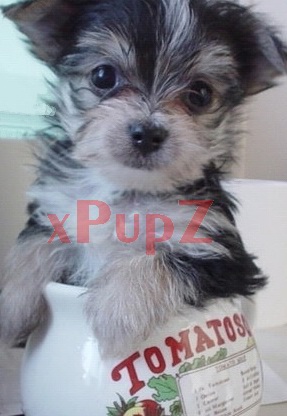 This little yorktese is Sammy.
He is the uncle to the yorktese pups below.
You can see more pictures of Sammy in our Photo Album.
Possibly the best mix of tiny toy breeds possible. The Yorktese is a combination of yorkshire terrier and maltese. Both breeds are virtually nonshedding. As a matter of fact, some believe that the maltese was used in creating the yorkshire terrier. The yorkie is only about a 100 year old breed while the maltese has been dated back to 8000 BC. Some have even told me that if you get a yorkie that has a white chest or feet, that some of the maltese ancestry is showing. Both breeds have the same size and style of body and muzzle. The only differences between the two breeds are color, ears, and tail. The yorkies have darker, golden hair, while the maltese is white. The yorkies ears stand up, but some flop like a maltese. The yorkies have their tails cut for cosmetic reasons. They would have similar tails if it was left long. We are no longer going to dock the tails of the yorktese. Yorktese will require regular grooming or can be cut short (called "puppy cut"). The yorktese are very playful, loving, alert, and smart. The yorktese has sometimes been referred to as a morkie. There is no difference between a yorktese and a morkie as the genetics are exactly the same.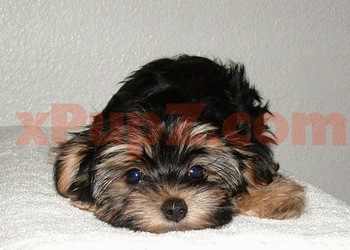 We do not have any YorkTese currently available for sale a this time. Please contact us to be put on a waiting list or check out our purebreds below. Thank you.

Purebreds available for sale:
For those of you that have filtered email services:
When contacting us, please allow email from our address to go to your account. Some services provide filters that prevent us from responding to your emails. Your privacy is very important to us and we will not send junk emails to your address. We respond to every email we get, but if your internet provider is blocking our emails, our replies do not go through. AOL and Comcast are two companies that have blocked our emails. Our email address is xPupZ@HoTMaiL.com
xPupZ has never used AOL, Comcast, Qwest, Verizon or other service provider.
Our email will NEVER contain names of these providers.
Contact Us Today!
xPupZ@HoTMaiL.com