Maltese


Yorkshire Terrier


YorkTese


Photo Album


Contact Us
LETTER FROM BUYER:
Hi,

I wanted to update you on Jackson. We got him from you in February, and he is now 6 1/2 months old. I can't believe we've only had him for a few months since he so quickly become an important member of our family. He is still not very big, only 5.4 lbs as of a week ago when he was neutered.

Jackson has such an incredibly cute personality. He loves (and kisses) everyone he meets, and everyone thinks he is the cutest dog they've ever seen. They always want to know what kind of dog he is, since it isn't really obvious. He is very much a mix of his mom and dad, just like you thought he'd be. He has the size, coloring and face of a Yorkie, but he's stocky with floppy ears, a long tail and the elbows of a Lhasa.

Jackson is sooo smart. He did great in his puppy preschool class at Petsmart. He also "talks" all the time. There is a noise he makes that sounds like a Tribble (remember the old Star Trek episode?), kind of a high-pitched whine growl, to let us know he wants something. He's been completely housebroken for about a month now. He has a way of looking at us that tells us he wants to go outside. It is so cute. He also goes with us most everywhere and likes to ride in the car. He is easy-going and loves to play with his toys.

The thing I'm most surprised about is how my husband is with Jackson. He is totally in love with him. It was his idea that Jackson should start sleeping on our bed. Jackson is his little buddy and loves to bite Daddy's ears (he climbs on the back of our couch).

I've attached four photos of Jackson. In some of them he has a short haircut because he doesn't like to be brushed and had to have the matted hair cut off a few months ago. He has gotten much better about it so his hair is now growing out beautifully.

I'm so glad I found you on the internet and decided to get Jackson. He is everything we wanted in a little dog and more. Although we never think of him as just a dog, he's our baby.

Thank you,
Shannon, Kevin and Bethany Johnson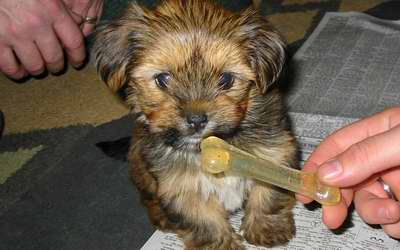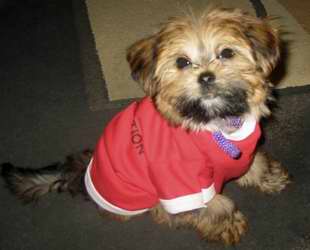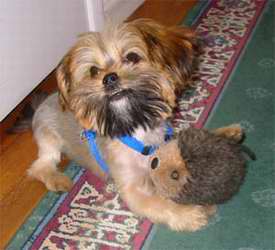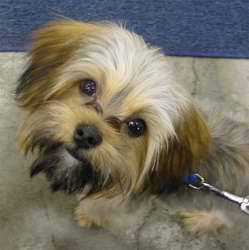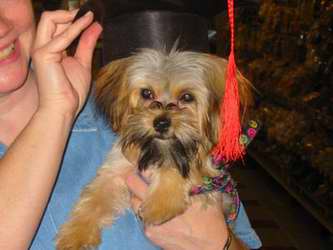 UPDATE FROM BUYER:
Thought I'd update you on Jackson. He is now 1 1/2 years old and the light of our lives. He was weighed recently and is 7.5 lbs., the perfect size. As you can see from the photo I've attached he is very cute. Our daughter is now married so he is the only "child" in the house and spoiled rotten. He is sweet, loving, playful, quiet, healthy, cuddly, I could go on and on.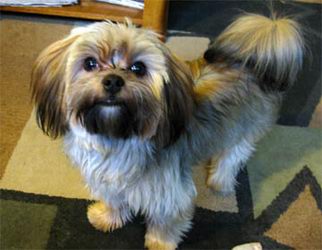 This is little Jackson. A Yorkie/Lhasa Apso Mix.
You'll find him in West Linn, OR.
LETTER FROM BUYER:
I wanted to write and let you know that the little female we bought from you about a month ago has quickly captured all of our hearts! Everyone who meets her falls in love with her. I have even caught my husband (a sworn big dog guy) secretly cuddling her close. She has the best disposition. We named her Pepper because when we brought her home she was so feisty and playful. But she is settling in her new home nicely. You should see her attack our Boxer. hahaha She is NOT intimidated by her size difference at all she growls and bites playfully at her ears and the boxer just takes it...with a big sigh like "here we go again." But even our Boxer loves her and is so gentle with her, even though Pepper is allowed on the couch and bed where the boxer (who is green with envy) is not allowed to go.
Our little Pepper has become a small dog ambassador to neighbors family, and friends. The Vet clinic was a buzz when she went in for her first checkup. She just had more shots this week and weighed in at a unbelievable 3 lbs. She insists on being with us at all times and cries and cries if she is separated. She only barks when she is left on the bed...just to let us know that its not a jump she is wiling to try and she desperately wants to be with the family. The kids adore her and somehow know to be super gentle with her because she is so tiny. Even pessimistic family members love her because of her laid back and sweet spirit. You can tell that her parents are well loved and that she was raised in a loving home because she is breaking every stereotype that people have about small yippy lap dogs.
Anyway we are so thankful for her. Thank you so much for such a wonderful little puppy I am so excited to see her grow. I have friends and family now asking about your puppies. Will you be having any more Yorkie/Lhasa litters? I think that your dogs make such wonderful puppies. Anyway thanks again...WE love her so much.
Hardy Family
Vancouver WA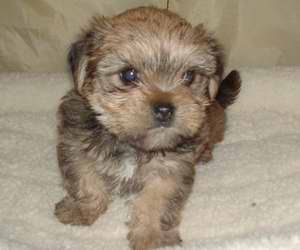 This is Pepper, Jackson's sister.
She's charming folks in Vancouver, WA.
LETTER FROM BUYER:
Hi,
I enjoyed seeing the update on Rocco's brother, so wanted to send an update as well.
These truly are amazing dogs. Rocco is an active, easy going, sweet puppy. All who meet him fall in love with this adorable new member to our house. At eight months, he is now up to a whopping 7 lbs and recently went on his first family vacation – camping! He wasn't to keen on lying down in the dirt, so of course we made him his own little 'camp chair'. Back at home on his own turf he enjoys playing with his tug toys and chasing his best friend, our cat Oliver, all around the house. They even stalk each other and wrestle!
Our eight year old Dalmatian, Jackson still doesn't know what to do with this feisty little pup. So he pretty much keeps out of his way. But when he's sleeping Rocco will sneak onto his bed and share a nap with him, or warm spot of sunshine. Outside they lay in the sun together. Too cute!
Rocco loves to go on outings with us, and does really well in the car. People generally mistake him for a Yorkie, and when they find out he is half lhasa, they always comment on what a cute mix he is. He is a very confident little pup and picks and chooses who he will 'greet'. It's true that these little dogs really don't realize how small they are!
We are so happy that we found your ad and your website. Having this little guy in our lives has been a joy, and he never fails to make you feel loved. One of my favorite things is coming home to that wonderful, wildly excited, wagging tail and as many kisses as you have time for!!
Sincerely,
The Pederson's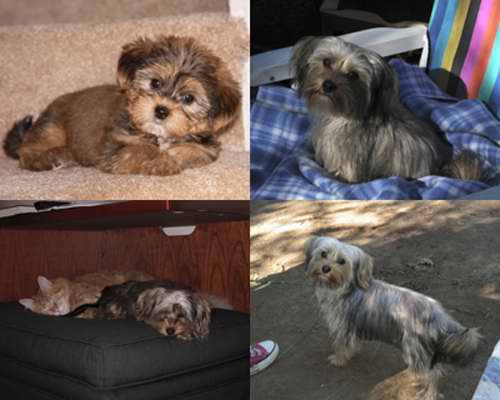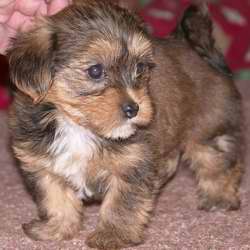 This is Rocco, littermate to the two pups above.
He sends hugs and kisses from Hillsboro, OR.
Previous Page, 1, 2, 3, 4, 5, 6, 7, 8, 9, Next Page