Maltese


Yorkshire Terrier


YorkTese


Photo Album


Contact Us
LETTER FROM BUYER:
Hello,
I am writing in you this letter in regards to a yorkshire terrier that I have purchased from you. I feel very lucky to have gotten little Shooter from you. When I first contacted you about your yorkies, you had informed me that another lady was currently viewing your pups and you would call back if she wasn't interested. I felt I had lost an opportunity to get a pup, but about an hour later, you called back and told me that the other lady thought you had the ugliest yorkies she's ever seen. With that thought in mind, I reluctantly went to visit your dogs. First off, don't know what that other lady was thinking, because you had the absolute most beautiful dogs I have seen. I can't believe she left without this puppy! He is the smartest, friendliest, and prettiest yorkie I have ever owned. If you ever get a hold of that other lady, I want you to show her what she thought was an ugly dog. We call him Shooter because he's like a shooting star to us.
Thanks a Million!
Caroline Chase
P.S. I guess I have to thank the other lady as well for not wanting him.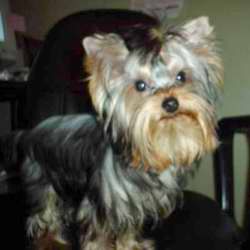 This is Shooter, a yorkie, at 6 months old.
He lives in Portland, OR.
LETTER FROM BUYER:
Our Harley is now ONE !!!
Harley is doing Great. We couldn't have asked for a better family pet. Every morning when I take my kids to school there is a line-up of kids waiting for him to give them their morning kiss (Lick). When we walk through the playground all the kids are yelling "Harley's here" and they all come running over and he greets each kid with a big friendly welcome. I was told by many this tiny mix wouldn't be great for kids but it couldn't be further from the truth with Harley. He LOVES kids more than any dog I have ever seen in my life. My Youngest plays with him constantly, Harley can't seem to get enough of her. He may be tiny (He stayed just under 5lbs) but he is very hardy.
Harley spent his summer with us at the cottage and he enjoyed the freedom of roaming the property. He amazingly enough learned his boundaries very quickly and stays close to the cottage. He made lots of friends up there my cousin just got a Maltese/Westie mix (really cute) and they have a blast together. My Uncle also has a little poodle that he brings to the cottage when he visits (18yr old poodle if you can believe it) and Harley fell in love with him (yes a HIM - I guess Harley may have decided he like males better) He cries and cries and gets very depressed when he has to go home. We thought that maybe we should get Harley a little mate but we know we couldn't get as lucky the second time around to find the perfect pet.
While walking Harley one day I saw a dog that looked exactly the same as him (well very close but of course not as cute). I was told this breed is becoming very popular and they actually had a name for the breed but I can't remember what it was. I was really upset to hear they have started hitting the pet stores in record numbers. I still tell EVERYONE not to get a dog from a pet store but I guess people just fall in love and can't help themselves...
I will try to get some pictures to send you. I hope things are well where you are.
Darlene in Toronto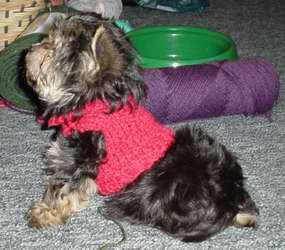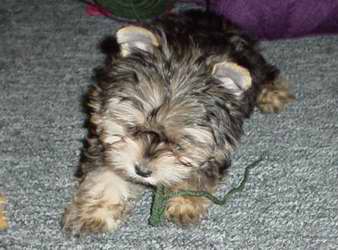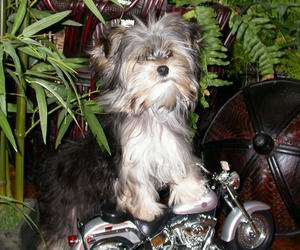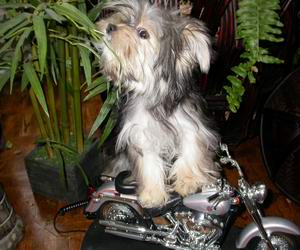 Harley is this boy's name.
He's spoiled rotten in Toronto, Ontario, Canada.
The YorkTese (Yorkie/Maltese Mix) is our most popular breed.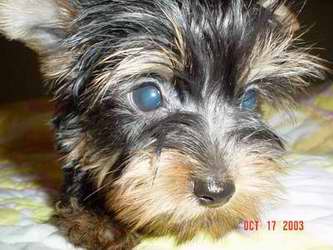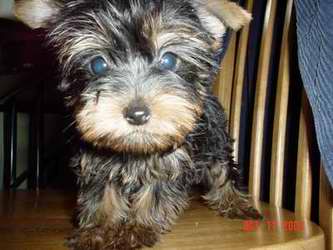 This is Scout, a yorkie.
Now working at the Promotions Department
of a prominent Portland radio station.
Previous Page, 1, 2, 3, 4, 5, 6, 7, 8, 9, Next Page